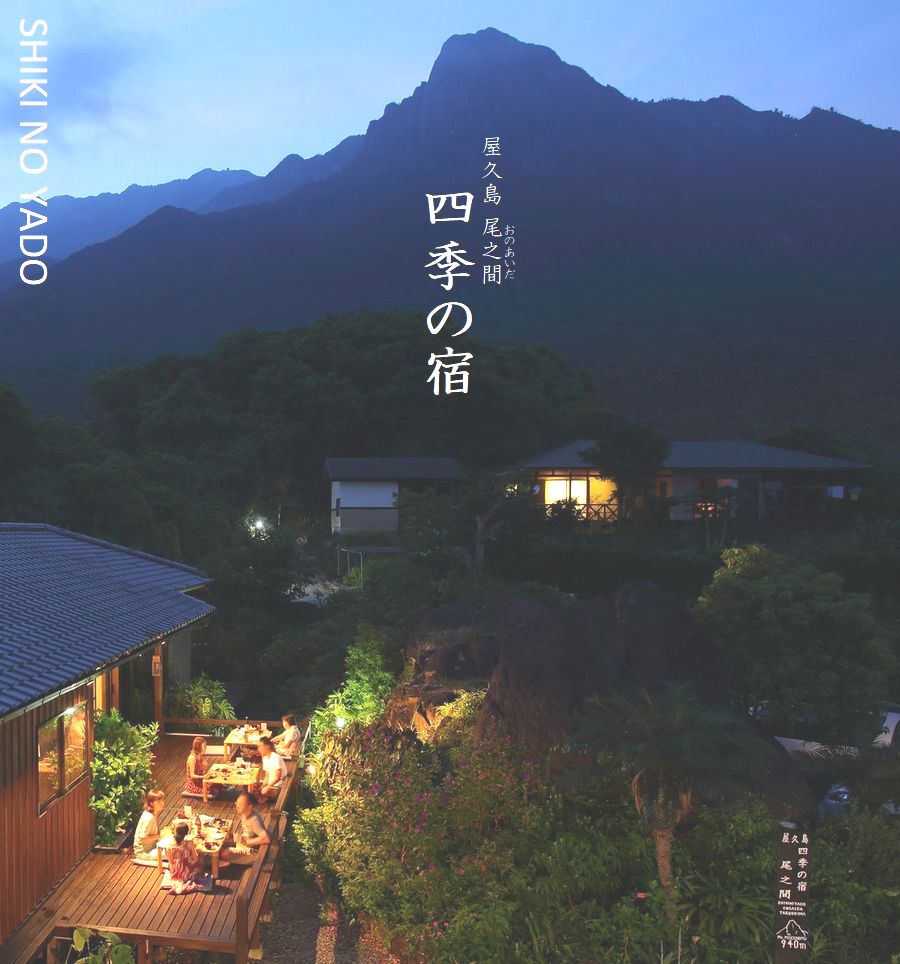 Thank you forNo.1 of 124 Minshuku in Yakushima
Book now with the best price
inquiry form
/
e-mail
accommodation Shikinoyado in yakushima.
Near the local hotspring and hiking trail and with a view of beautiful nearby Mt Moccyomu.
Local fresh sashimi and vegetables are harvested organic garden.
*Minshuku ? family run hotel / vacation-style accommodation.(minsyuku)
Onoaida is a good hotsprings town.
Enjoy your meals with a view of beautiful nearby Mt Mocchomu.
Almost ingredients for your meals are from Yakushima.
Almost vegetables are harvested from our organic garden.
You will enjoy local fresh SASHIMI !!
Wi-Fi are available at main building.

About the Hotel
About Yakushima
Western room with outside bath(1 to 3 People):
Western style rooms are separate to the main home and have mountain views from a private balcony and beautiful view outside bath.
Each room has twin beds, a flat screen television, air-conditioning and a bath and washroom.--
details
Condo room(2 to 10 People):
There are 2 accommodations in a building with second floor.
Ocean view from second floor and the great mountain view from a balcony.
Those rooms are separate and private from the main home.
Futon for 7 guests, TV, Refrigerator, Air-conditioner, Stay with your own bath and a washroom. --
details
Japanese room(1 to 4 People):
Japanese style rooms are organised around a central courtyard in the main building and have mountain views from a private balcony.
Each room has futon for four people, a flat screen television, air-conditioning, a washroom.
Japanese style rooms also have the option of a private semi-outside bath with a mountain view.
There are Japanese style rooms available. --
details
Price per person per night included dinner and breakfast

(With out TAX)
2 people
per room

3 people
per room
4 people
per room
5 people
per room
6 people
per room
7 people`
per room
Room with bath
8,600
-
-
-
-
-
Room with outside bath
9,600
8,600
7,800
7,000
-
-
Condo
-
9,600
8,800
8,000
7,500
ASK
Peak season-10% up Check a Carender
Tax rate--8% from April 2014.
Cancelation fee- 50% with in 14 days. 100% 1 day before.
Pricing is subject to change. You might want to confirm pricing with us.
You do not eat dinner -2000 Yen,You do not eat breakfast@-500yen.
Children from 7 to 12 years old are 90% of the price.
Children from 3 to 6 years old are 4000 yen with 2 meals, 2000 yen without meals.
Add 3000 yen for one person per room.

Location
Southern part of Yakushima Island near Onoaida. 35 min from Air port
To get away from the city and experience the real Yakushima come stay with us at Shikinoyado minshuku.
Nestled underneath the great Mt. Mocchomu in the heart of Yakushima onsen country, you can enjoy excellent home-cooked meals and a hot spring baths after a day of hiking through cedar forests.
Shikinoyado minshuku is perfectly situated between the mountains and the ocean so we are blessed with warm sunny days and cool evenings for peaceful sleeping.
Wake up to gentle winds, mountain views, birds singing and 100% organic vegetables grown on our farm.
Our land is approximately 33,000 square feet(3000 square meter) providing Japanese, Western and Condo style accommodation options.
Japanese rooms and dinning room has wireless high speed internet access and easy parking.
We also have bicycles, umbrellas and beach chairs for you to borrow.
We are located just 15km west of Anbo port, only minutes from the great Onoaida Onsen and JR Hotel Onsen.
To find out more about our minshuku or to view the availability calendar, click
here.
Onsen
3 min Onoaida and Yakushima onsen(we can take to there)/ 12 min drive the seaside onsen

---

Hiking
70 min Entrance of Yodogawa-path/ 50 min Arakawa and Yakusugi-land/ 75 min Shiratani

---

Location
30 min Airport/ 50 min Miyanoura-port/ 15 min Anbo-port/ 3 min walk Nakano bus stop

---

Sightseeing
10 min to Senpiro-waterfall/ 20 min Ohoko waterfall/15 min Anbo town

---

Shops
Just 1 min walk to bakery/ 3 min drive to super market

---

Communications
Docomo-/ au-/ softbank-¢/ WiFi/ free rental computer available

---

Bath
Each room has its own bath (There is one outside of the room at the New Japanese room)

---

Wash room
Each room has own wash room


---

Amenities
Towel/ Bath towel/ Hair drier/ Erlectric pot/ Soap/ Body soap/ Shampoo/Conditioner

---

Shared amenities
Shared kitchen/ refrigerator/ bicycle/ snockel and mask/Deck for mountain view

---

Pay amenities
Washing machine/Dryer/tooth brush/Night clothes/Charcoal BBQ


---


English Tour guide Yakushima Experience
This is a small local guiding company run by a New Zealand and Japanese husband/wife team.

Contact Yakushima Experience.
Cameron Joyce 090-78203592 www.yakushimaexperience.com Yakushima geographic Tour
They are licensed professional guides to attend visiters from overseas. Consult us what to prepare/ physical consern/field condition/your expectation, etc.
Contact Yakushima geographic Tour.
Aida 090-27182753 http://yaku-geo.com/